Turn Your Drag Persona into a Bankable Brand
Gain Attention You Crave, While Making Money You Deserve

It can be a challenge to remember names, much less determine who has the talent when booking new ladies. That being said, getting booked is a lot easier said than done. Especially nowadays when everyone and their mother is competing for center stage.
So if you're not sure where to start, or are looking to accelerate the process a little bit, then contact cupid to learn how to get booked regularly as a drag performer!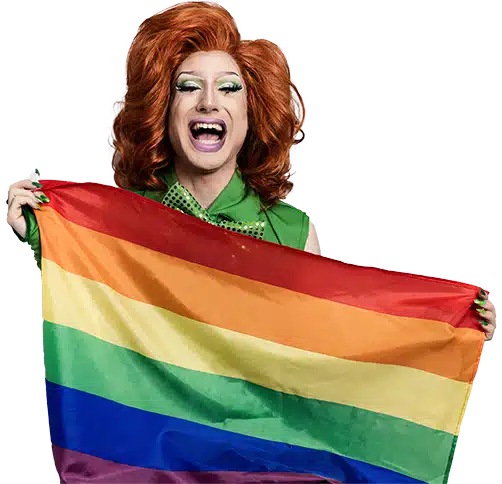 STEP 1. – Start with The Drag Queen Battleplan
The Drag Queen Battleplan – Maps out a plan of brand expression that you can follow to shape the perceptions of your drag persona in the mind of your audience. You'll receive a well thought out branding system that includes your brand's message, tone, personality. 
STEP 2. – Make It Happen with Drag Brand Builder
After our Brand Battleplan interview reveals what makes you different, we show you off with a brand identity that gets you noticed, remembered, loved and shared. Our Drag Brand Builder executes your entire brand, from designing your logo and message through designing and building your website, and gets you out there selling immediately. (no joke)
Showcase Your Personality
Building a personal brand for your drag persona not only enforces your credibility but also gives you a new outlet of unique expression. What separates you from the rest will be how you hone your brand identity and use it as a tool to get them coins.
Engage Your Fans Online
Having a personal brand and a killer website creates the space for you to give your fans a truly VIP experience with you. Allow your fans the opportunity to get an up close and personal view of your life and show a different side of your character any way you see fit.
Share Your Unique Story
Give your fans a chance to get to know you on a personal level, get a peak who you are, learn about your background and what brought you into the world of drag. This is your chance to share your unique story.
Get Booked at Premium Rates
One of the main reasons you chose to do drag is to show your uniqueness, nerve and talent – performing. Giving your drag persona a personal brand identity will help you get more bookings and will build your credibility.
Sell Your Personalized Drag Merch
Start selling your personalized drag merch, garments & jewelry or really anything you want. You'll have the ability to sell whatever you'd like right from your own personal shop.
Disseminate Your Media Kit
Give potential club owners, promotors, event planners the ability to download your media kit that includes your headshots, your best performance video, your logo in various formats, your drag bio and reigning titles.
Upload Your Performance Videos
Show the world all your dance moves and your best drag performances. Queens that showcase videos tend to get more bookings.
Own Your Own Platform
You will own your own digital platform that you can do whatever your heart imagines. Whether you want to just focus on getting bookings or you want to turn your platform into a money-making-machine selling merchandise, your handmade garments or want to sell tickets to your next upcoming show.
Get Tipped Virtually
Allow all your fans to tip you right on your website. Hook up all your payment processors such as Venmo, CashApp, PayPal, Google Pay and Apple Pay to collect virtual tips.
Promote the fuck out of yourself and Get Immediate Results
Remember, if you want something, you need to put the work in. Everyone and their mother is doing drag these days. If you want to stand out then you need to step your pussy up.